With the rise of distributed teams, the pressure is on to get every member of the team access to the resources they need to learn and develop.
That's where a provider like Learnerbly can make a huge difference. Learnerbly is an online workplace learning marketplace founded by Rajeeb Dey MBE.
Rajeeb tells us all about Learnerbly, and what he's learned along the way.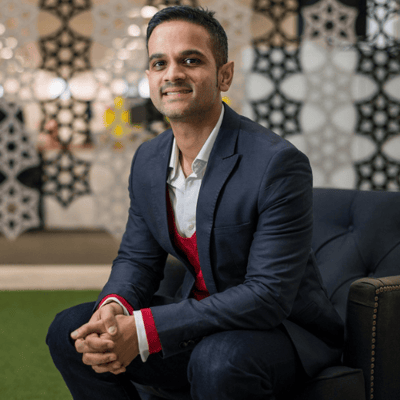 Hi Rajeeb! Tell us a bit about your company.
Learnerbly is the workplace learning marketplace that empowers, supports, and upskills employees to keep businesses on the edge of tomorrow.
Learnerbly curates the best personal and professional development resources from over 250 suppliers ensuring employees connect to what they want to learn based on how they like to learn.
One of our USPs is that we provide a range of learning modalities whether it be books, coaching, courses, e-learning, conferences, and more depending on the employee's preferences.
Each employee is empowered with their own development budget democratising access to learning.
Learnerbly ensures companies don't waste money on unnecessary business-wide subscriptions to e-learning which employees never use and instead gives employees a choice of how L&D money is spent to support their personal and professional development.
In doing so Learnerbly supports businesses to attract and retain top talent, boost employee engagement and fill skills requirements internally by supporting the ongoing growth of employees.
How did the idea for Learnerbly come about?
I had started a company called Enternships, which was a portal that connected students and graduates to internships and graduate jobs in startups and fast-growing businesses.
Through this, we had helped over 7,000 people hire great talent. Having helped these companies (often rapidly growing scale-ups) to hire great people the question for me became how do you develop them?
In this market, if you wish to attract and retain top talent you need a way of ensuring the continuous development of your employees.
However, many smaller businesses have over-stretched People teams and may or may not have anyone internally to oversee L&D.
Even larger businesses with L&D teams struggle to keep up due to the rapid pace of change in the market and the need for new skills is growing exponentially.
There is no quality control in the industry and it's hard to keep up with the volume of new content and suppliers.
Learnerbly addresses this issue by providing a dynamic AI-powered Learning & Development (L&D) platform connecting employees to 250+ of the best suppliers whilst eliminating the administrative burden for HR by providing a fully managed service.
What is your North Star metric and why is it so important?
As a learning marketplace, we're always tracking engagement in the marketplace not just in terms of login but also the utilisation of the learning budget each employee has. As 40% of the marketplace content is free we have to balance logins alongside purchase requests.

What do you look for in a candidate when hiring new people?
At Learnerbly, something we actively look into is how people show up against our company values.
Learnerbly has been completely built on the foundations of our culture and it's important to us that this is something we assess for in our interview processes and have a completely separate stage of our process dedicated to this.
For us it isn't about 'fit' per se but cultural contribution - do their values align with ours and will they contribute to enriching our culture is the key question.
We also have a public Employee Guide where we share a lot about the inner workings of the company, so I, personally, am always intrigued by how much research the candidate has already done about us and how invested are they in the process vs it being a case of 'spray and pray' with their application.
How do you keep your team aligned?
We have company-wide OKRs, which are connected to team OKRs, and we make sure that everyone has input into their team OKRs.
We have clearly seen that as team members contribute Key Results to the team OKRs, they are clearly aligned and all working towards the same objectives.
It is key to making sure that each employee understands their role, sets key results themselves, and so can be accountable.
Do you have a share or option scheme in place for your team? If so, what
impact has it made?
Yes, we do - it's used to reward and provide a sense of ownership in the business as well as encourage loyalty as it vests over a four year period.

That's what we like to hear! Can you share any practical tips or processes to help people work remotely?
Keeping strong communication and shared working rituals

It's imperative to keep employees aligned, working towards a common goal, whilst making sure that communication between employees is always given importance, whether that's through team meetings or scheduled 121s or even virtual catch-ups.

At Learnerbly, we have randomised "virtual cuppas," where employees can catch up and get to know each other better, creating an inclusive workplace.


Remote work allowances

Remote work allowances have really picked up during 2020 and shall make employees feel supported and nurtured. They can also help create a great 'work environment' for the remote employee, keep morale up and create distinctions between work and home.


Learning and development

Improved or additional access to learning and development shall enable employees to upskill with the additional skills required for working remotely.

It's important to give employees access to improve their remote working skills, regardless of their role in the company. This can be key to creating a nurturing environment with a culture of upskilling amongst all employees.
What is the biggest mistake you've made as an entrepreneur?
Not saying "No" soon enough. Early on it's tempting to say "Yes" to every opportunity and you're always hustling. However, there comes a time to just focus and prioritise.
This means you have to turn down seemingly great opportunities. In our case, this meant 'firing' one of our most lucrative legacy clients who just wasn't aligned with our future product roadmap.
Whilst initially it was important to get them on board it transpired after two years they weren't going to be the right longer-term client as their needs were at odds with all of our other clients.
Saying no to them was a hard decision, but something I wish I'd done sooner!
What do you like to do outside of work?
Spending time with family and friends, eating out and watching very trashy TV shows (yes it's my guilty pleasure!)
If you could only eat one meal for the rest of your life, what would it be?
Sushi.

Good choice. Thanks so much for your time Rajeeb, it's been an absolute pleasure.