Sharing ownership used to be a headache
Employee share schemes can be insanely complicated. Vestd has hugely simplified the process for SMEs...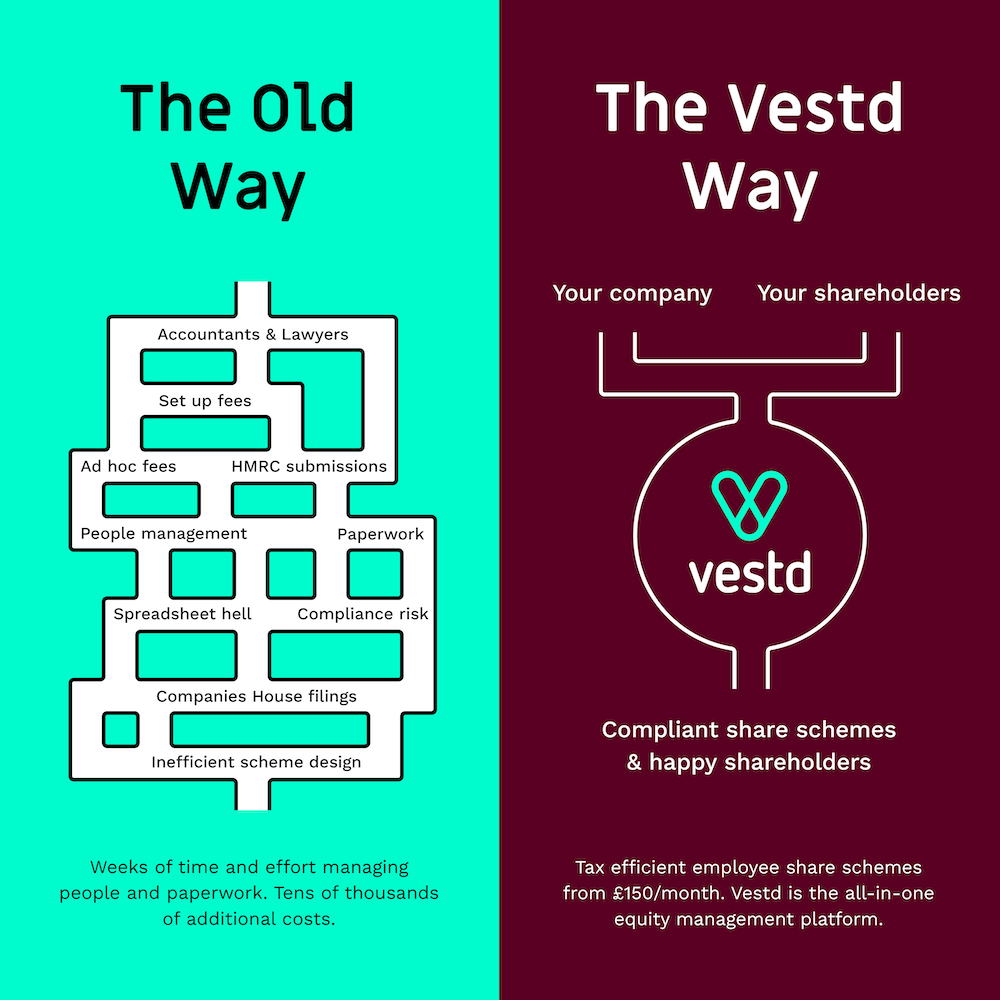 Vestd: the smart way to manage equity
We look after your shares and options, so you can look after your business.
Defensible valuations
Our experts will provide regular valuations for growing companies.
A platform built for UK businesses
And trusted by hundreds of SMEs and startups (and their investors).
Easily add and remove people
Changing scheme members on Vestd is a piece of cake.
Lifetime scheme management
Setting things up is one small step. We'll also help manage your scheme.
Digitally manage everything
Ongoing expert support
We provide end to end support, from start to finish, and no random fees.
FCA authorised
Vestd is the only UK share scheme platform for SMEs that is regulated by the FCA.
Set the right conditions
Making your scheme conditional can protect your business.
Affordable employee share schemes
Pricing starts from just £125 a month, with no ad hoc fees.
No need for accountants or lawyers
Our experts don't need any help with setting up your scheme. We offer a full service, so you can save thousands in fees, though you can use your own docs if they've already been prepared.
Set up an employee share scheme from scratch using our templates and docs and you're good to go. Complex schemes may require external support.
Improve employee engagement
Employees can access a portal to view their shares and vesting schedules, allowing you to communicate the value of the scheme while avoiding the admin.
Want to find out more?
To schedule a demo or free equity consultation just choose a good time to talk.
One of our equity specialists will call you to discover what you're aiming to do, and will provide impartial guidance based on your specific needs.
You'll learn:
the best scheme type to use
what a scheme will cost
how to be tax-efficient
the importance of staying compliant
how to protect the business
Choose a good time and let's talk equity!
Who uses Vestd?
Founders, CEOs and CFOs use Vestd to take the hassle out of managing share schemes.
Startups
Give co-founders and foundational hires a slice of the action.
Growth companies
Get your share scheme set up to help attract and retain talent.
Scale ups
Minimise the time it takes to add and remove people from your scheme.
Mature companies
Reward your loyal employees by giving them a piece of the pie.
VCs and investors
Track portfolio activity and view real time (and historic) cap tables.
Accountants
Easily create and manage share schemes for your clients.