Which are the most remote working-friendly industries?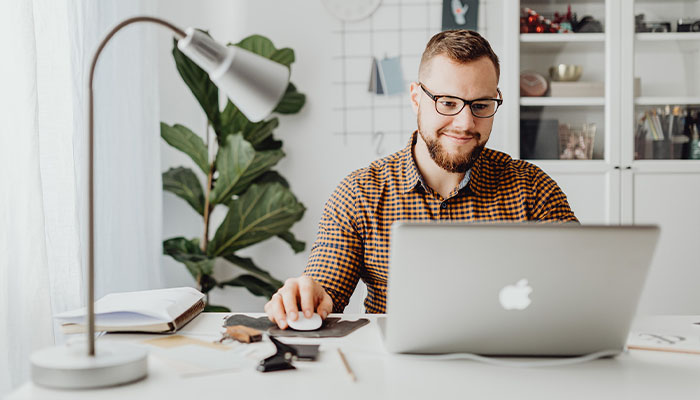 The marketing and media industries have been pinpointed as some of the most remote-working-friendly sectors according to our latest research.
Vestd has been a big advocate for remote working since it was formed and for a time used a WeWork space which allowed flexibility for office space and a remote hub for coworking and meeting.
This was many years before working from home became the norm for workers during the pandemic.
Our entire culture and working processes have been built around our team working from home, and a recent report by the Parliamentary Office of Science and Technology backed this up when it showed that one in eight UK employees is now working exclusively from home.
So it got us thinking about which sectors are more open to hybrid or remote-working in 2022 and how many jobs are now being advertised as remote-only positions.
We used data from job listing site, Indeed, to work out which sectors were the most likely to advertise and hire for full-time remote roles.
We found there were almost 16,000 jobs (13.5%) within marketing that were listed as solely working from home, followed by media (13.1%), IT (10.6%), and design (10.4%).
For these creative industries, it is much easier to work remotely, whether that's from your home, from a coffee shop, or anywhere in fact, and for some companies, their employees had also been doing this long before the pandemic.
And while there has been a push this year from business leaders and executives to encourage workers back into offices, many firms have embraced remote working for good and are refusing to go back to old practices.
As they continue to advertise for remote roles it shows there's no sign of its popularity falling just yet, which could be down to people discovering the benefits of home working, and its impact on their work-life balance.
The following table shows the full picture.
The UK's most remote-friendly industries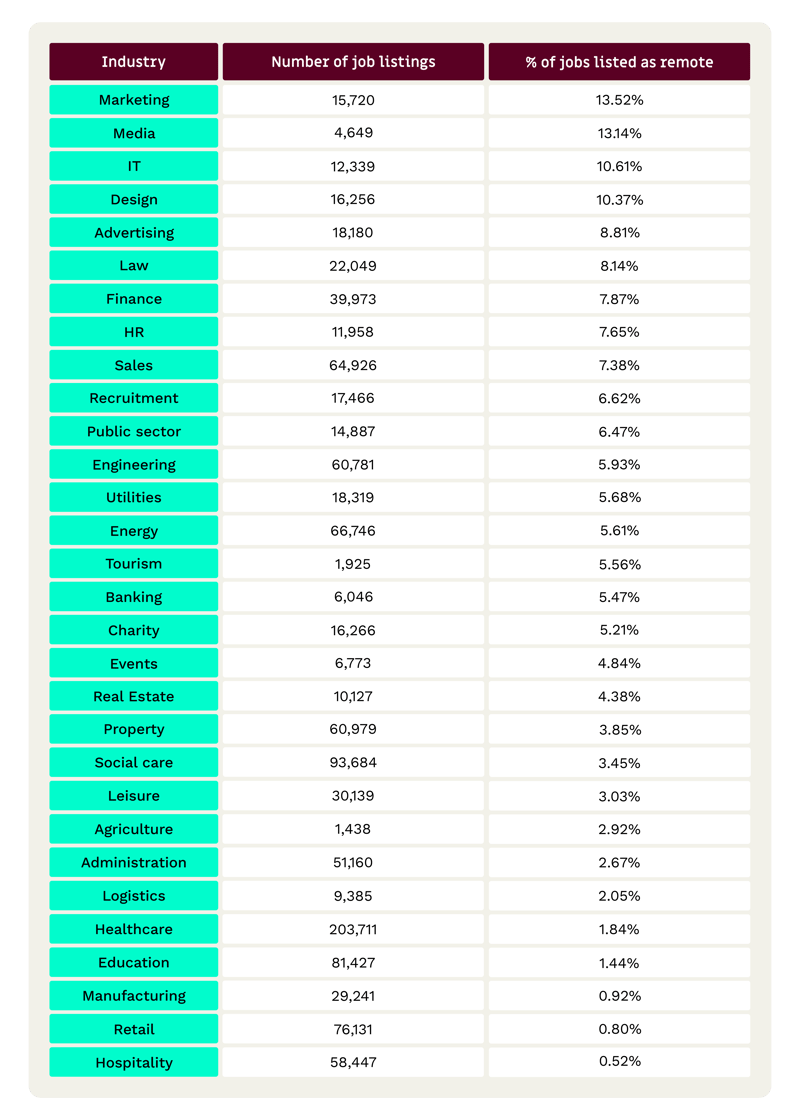 *Source: uk.indeed.com - data correct as of 20/10/22.
Which sectors are least open to remote working?
It's not surprising that the sectors where workers are primarily expected to be at the workplace or 'on the shop floor' were within the hospitality or retail sectors.
Given the very nature of their industries, it's just simply not feasible to do those jobs over a video call or from your home office, and therefore they listed the smallest number of remote roles on Indeed.
The hospitality sector had the least remote working jobs advertised with only 0.5% of nearly 60,000 jobs listed with the option to work from home full-time.
Retail (0.8%), manufacturing (0.9%) and education (1.4%) were among the other sectors with a tiny minority of roles available to remote workers.
The other obvious sector is for healthcare and social care professionals who clearly cannot do their job remotely.
While most frontline care staff have to be on-site to carry out their duties, these sectors do still have other opportunities within admin, marketing and logistics departments that could benefit from the balance of home working.
Why choose remote working?
For us at Vestd, remote working was a natural fit and the flexibility has enabled our teams to benefit from a better work-life balance while still delivering on the same workload.
And in building equity into our working culture it helps keep the workforce revitalised and aligns our remote teams.
If anything we would argue that it can make an industry or company more attractive to job seekers and that's reflected in the sheer numbers of people who are applying for remote working roles within these industries, more than those who expect workers in the office full-time.
And those businesses that are more open and flexible to their staff working remotely are also able to better retain their staff at a time when there is a ferocious battle for retaining good talent and offering better employee incentives than the next recruiter.
It's these little things that seem to be making the biggest differences to employees and job seekers and can be what sets one job vacancy apart from the next.