The sudden shift to remote working in the wake of the pandemic was an entirely new experience for many. It's been well over a year since the upheaval, but we've learned a lot since then.
While the mute button still eludes some, countless have found creative ways to communicate effectively and maintain meaningful connections with colleagues online.
As the UK reopens, there's talk online of keeping remote working but adopting a hybrid working model moving forward.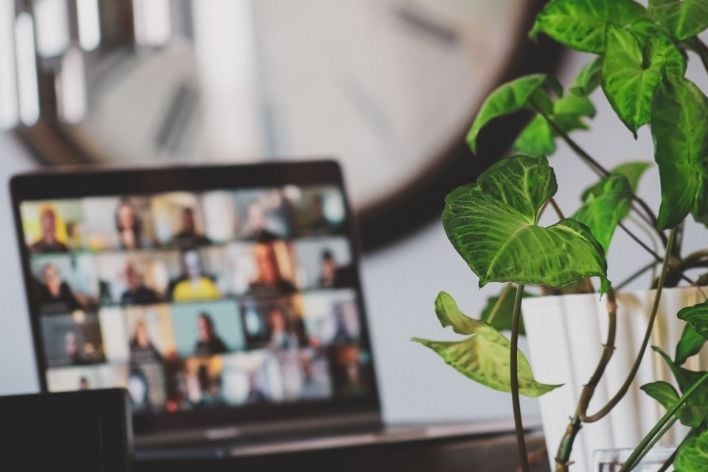 What is hybrid working?
Hybrid working is a flexible working arrangement allowing employees to work offsite or at home some of the time and work at the office the rest of the time.
For larger organisations, this may be necessary on a rotational basis to minimise the number of employees in any one space at any one time.
According to the BBC, almost 50 of the UK's biggest employers won't bring staff back to the office full-time. And plenty of employees think that's the right choice; 74% say a mix of office-based and remote working is the best way forward post-COVID, according to the Adecco Group.
So, it looks like hybrid working is here to stay. But what's the best way to go about it? And is hybrid working the future of UK business?
Hybrid working: best practices
By now, you've realised the importance of putting the right processes in place to ensure the effectiveness of remote teams. Hybrid working is a little different, so what's the best way to approach it should you choose to go down the hybrid route?
Rethink the office space
When we say 'office space', we mean all spaces where colleagues communicate and collaborate, both physically and virtually. As well as thinking about social distancing and good ventilation, prime your physical office space for collaboration.
Employees need an inclusive space to share ideas and strategise together in real-time, even if they aren't all in the same room. Regardless of where they're based, employees should feel included. A strong, secure internet connection is essential, as is access to screens or any other devices they may need.
As for your virtual spaces, are they working in the way you want them to? Applications like Zoom and Slack are popular, but there might be alternative software out there that better suits the needs of your team. Now is the perfect time to assess the efficiency and usability of the tools currently used.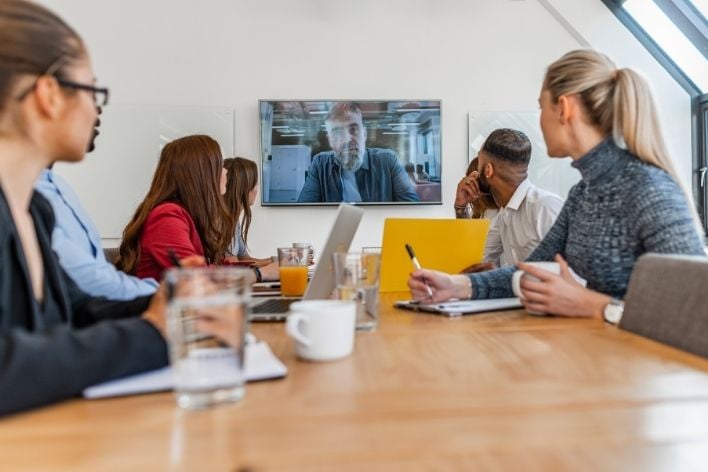 Build the right tech stack
Following on from the previous point, do your team have the tech they need to work effectively? Whether it's for communication or project management, all employees need to know how and when to use each tool.
Everyone should follow clear guidelines when using communication tools like Slack to avoid too many distractions or information overload. It's worth giving guidance on tone and transparency to help minimise any miscommunication. We're human - it happens.
For creative businesses especially, collaboration is key. Applications like Google Docs and Retrium allow users to contribute ideas and edit content in real-time. Configuring the appropriate privacy and share settings in these tools is pretty simple too.
Is your data management the best it could be? Consider the integration of apps and how knowledge is shared in the business. Optimise those processes.
A video call is the next best thing to seeing someone in person but be wary of 'Zoom fatigue'. Our brains have to work much harder to concentrate during a video call to process the non-verbal cues we tend to pick up in person. So, avoid organising too many video calls and schedule breaks in-between.
And nothing impacts efficiency like a slow machine; it's the worst. Update equipment if needs be.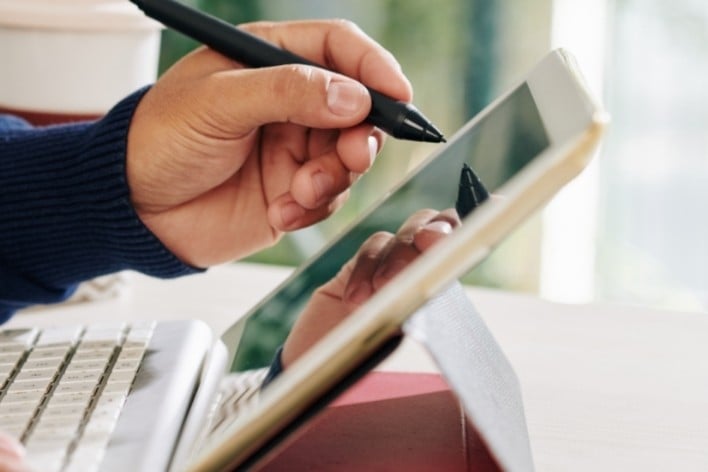 Reinforce company culture
With employees here, there and everywhere, maintaining a sense of cohesion and camaraderie is crucial. Remote and hybrid teams have to work a little harder to instil a positive company culture.
We think trust, transparency and training plays a big part. Teams want to feel trusted to do their job and do it well. They want to know what's going on in the company and how that might impact them.
Employees have missed out on vital training opportunities due to the pandemic, and some staff may be returning to work after months of inactivity (furlough).
But with so many courses and webinars online, there's no reason why training can't be prioritised. And be sure that those returning to the office have access to the resources and support they need to make that transition easier.
Wellbeing in the workplace is no longer just a buzzword or quirky office perk. In the wake of the pandemic, it's more important than ever. Remote working can feel isolating, but equally, those returning to the office could feel apprehensive.
Check in to see if there's anything the company can do to maintain positive mental health and wellbeing among teams.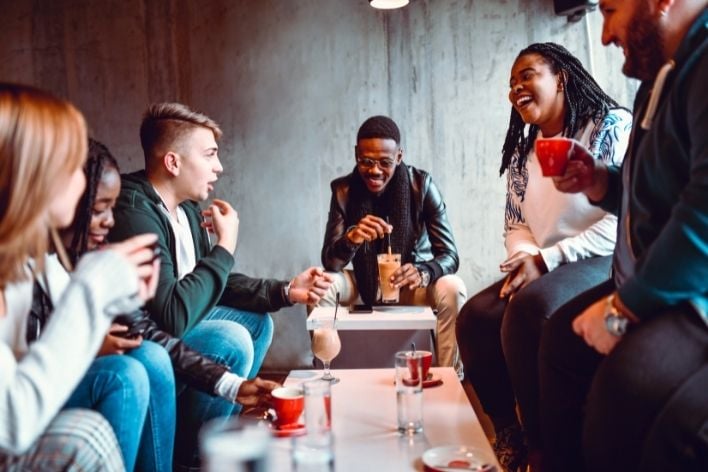 Plan events
Providing it's and everyone's keen, plan regular in-person meetups. It could be a monthly catch-up or a yearly team retreat, just get a date in the diary. Meetups are a prime opportunity to reconnect, remind everyone of the company values and share common goals.
In-person meet-ups are particularly important for new starters to help them put names to faces and build relationships. That being said, virtual events are also an option. Though widely considered as a temporary online solution to live events, virtual events have proven to be very popular.
So if an in-person meetup isn't feasible, perhaps look into hosting a virtual event with virtual teambuilding exercises and fun activities. Not all activities at events have to be work-related. It's been a tough time for many, all teams could do with a treat!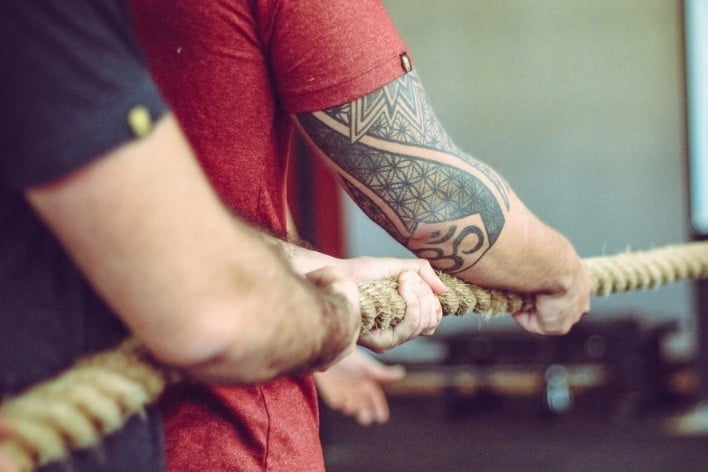 Is hybrid working here to stay?
According to the latest stats, hybrid working is what people want. But whether hybrid working is the future remains to be seen.
A lot of big firms like KPMG are all for it. CEO Jon Holt said: "The pandemic has proven it's not about where you work, but how you work." If employees can work well offsite, then why shouldn't they?
Having the choice and the flexibility to choose where to work is an attractive prospect. In fact, recent research by Capability Jane revealed that 70% of UK employees feel that flexible working makes a job more attractive to them.
Our team is totally remote. We used to have a physical office space so we understand the pros and cons of both. One thing's for sure, the pandemic has dramatically changed the way UK businesses operate. Maybe not forever but for the foreseeable future at least.