Lawyers, let's say multiple clients want to set up an employee share scheme.
While you salute your clients for wanting to reward their teams with equity, the thought of chasing information and sifting through shareholder agreements is enough to give anyone a headache.
Not only that, but the cost of non-compliance can be dear, not just for your client but for your reputation. It's crucial to get every detail just right. No one wants a misunderstanding to come back to bite them, but all too often, that's what happens.
Eliminate the chaos with a digital equity management platform. Vestd makes managing employee share schemes a whole lot easier and a whole lot safer. Save yourself and your clients time, money, pain (and paper).
With Vestd you can:
Digitise agreements
Manage multiple clients and/or schemes
Keep tabs with dynamic dashboards
Stay in the loop, stay notified
Help clients manage equity effectively
And more.
Trusted by the FCA, Vestd offers full, two-way Companies House and HMRC integration. We'll also make sure you receive reminders in good time, so you can sleep easy, knowing that you'll never miss an important deadline again.
Clients have access to their own dynamic dashboard, which you can help to manage if they wish. Clients can upload existing agreements to digitise or generate new ones in minutes using your drafted documents as a template.
Through the platform, clients (or authorised persons) can authorise new option pools, grant new options and design their employee share scheme digitally. And generate items like share certificates and confirmation statements with the click of a button.
There are other features like a real-time digital cap table to help clients keep track and visualise company ownership easily. And that's handy for you to see ahead of any audits.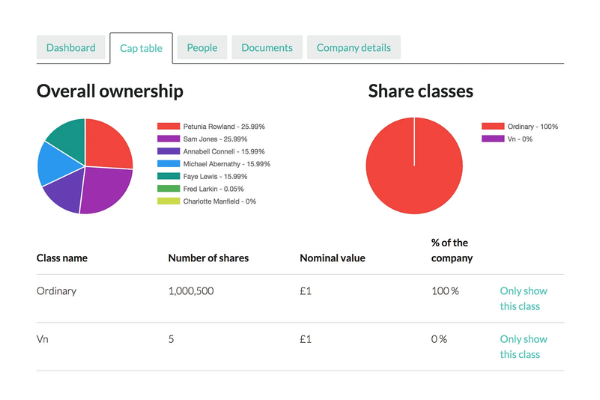 The clients' teams will be happy too. Each shareholder can see their shares vest over time and model the future value of those shares. Rather than rifle through the filing cabinet to find the original agreements to try and work it out for themselves.
As you probably already know, there are different types of share schemes. The platform can accommodate Enterprise Management Incentives (EMI) Growth Shares, Unapproved Options, Agile Partnerships and, of course, there's the option to digitise an existing scheme if there is one.
And crucially, not only can clients manage existing employees digitally, but also leavers. Highly beneficial for fast-growing startups. And the quicker your clients can digitise their equity management, the better. It'll make their lives easier later down the line, and yours.
We understand that share scheme management can be a painful task. But it doesn't have to be, not when you do it digitally. Book a free call today to find out more or join our rewarding partner programme.