As a growing business you'll have been to conferences before. But how many times have you come away feeling like you could have got more out of it? Conferences can be hard work and tiring, but only if you don't have a plan.
As you've made the wise decision to attend this event you must be a business who wants to give shares to your employees, or develop the scheme you currently have. Run by the Institute of Directors and Employee Share Ownership Centre, this event is packed full of experts who can help you achieve what you want for your business.
To help you get the most of it we've put together this simple and helpful plan of action.
Before the event
Where and when
Date & time: 14 Sep 2017 09:00–17:00 (08:30 to take advantage of the free breakfast)
Location: Travers Smith , 10 Snow Hill, London, EC1A 2AL
Nearest tube: smack bang in the middle of St Paul's, Barbican, Farringdon, Chancery Lane and City Thameslink so take your pick.
Pre-event prep
Read through the agenda and speaker profiles

Think about your game plan. What is it that you want to get from the day, are there certain questions you want answers to?

Bearing that in mind, are there particular speakers who would be useful for you to talk to?

Do you know anyone else going? Send a couple of tweets highlighting the event, it raises your profile with the event organisers, speakers and other attendees. #shareschemes #smes #IoDESOP
At the event
Arrival time
Arrive 20 minutes before kick off, 08:40 in this case, enough time for registering and breakfast.
Taking a seat
Make sure to choose a seat where you can easily see and hear the presenter. Personal tip — avoid sitting under air vents and try to leave an empty seat at the end of the row for late-comers.
Say hello to your neighbour. Just small talk at first, (no one wants a full on sales pitch before 9am) but it breaks the ice and you never know when you could be sitting next to the next Richard Branson.
09:00 Keynote
This sets the tone for the day. We're lucky to have Malcolm Hurlston CBE from Employee Share Ownership Centre (@EsopCentre) presenting the keynote. The Employee Share Ownership (Esop) Centre is a non-profit subscription based organisation which draws from over 25 years of experience to inform, lobby and research in the interest of developing all forms of broad-based employee share ownership plans in the UK and Europe. They've also got an online library full of useful links about share ownership.
09:20 Introduction to employee share schemes
Robert Postlethwaite, managing director, Postlethwaite Solicitors, @shareschemes
What to listen out for: Robert has particular expertise in helping private and smaller listed companies find the right employee share plan to match their needs, so if you feel your business might be a bit different from the norm, pay close attention.
09:55 Enterprise Management Incentives (EMI)
Liz Hunter, head of share schemes, Mazars, @LizHunterReward
What to listen out for: Liz has a particular passion for entrepreneurial game changers, (sound like you?) and companies with international equity awards. Unlike many legal advisers, Liz is adept at working with the needs of an entrepreneur and can condense complex legal matters into a one or two page visual — let's hope she shows us some on the day. Liz also provides practical tools to help clients and their advisers and investors with the dilution/reward decision making and the communication aids to optimise the efficacy of equity awards.
10:30 BREAK
Chat, coffee, stretch.
10:50 EMI case studies
David Craddock, founder and director, David Craddock Consultancy Services
What to listen out for: David is a whizz at all aspects of an employee share scheme project from design and implementation, tax and legal compliance to communication, administration and the ongoing maintenance of employee share schemes. This is the session for noting down examples of things that might work for you, particularly if you've got team members back in the office to explain it all to later.
11:25 Alternatives to EMI
Catherine Gannon, managing partner, Gannons, @GannonCatherine
What to listen out for: The Gannons team pride themselves as being as commercially minded and entrepreneurial as their clients, and they've got bucket loads of experience. "Businesses differ and the best solution for one may not be the best for another. We look at your people, your goals for your people and the return your shareholders are expecting from an employee share scheme."
12:00 Beginner panel
Chair: Mahesh Varia, partner, Travers Smith, @traverssmith
Panellists: Colin Kendon and Nigel Mason
What to listen out for: When it comes to a panel, the most juicy bits of knowledge often come from when the panelists disagree. When they agree on something you can feel pretty safe that it's a correct course of action. But when they disagree then this is a point which will require more research if it's something you want to apply to your business.
12:40 LUNCH
13:40 Share schemes and succession planning
Stephen Woodhouse, partner, Pett Franklin, @PettFranklinLLP
What to listen out for: Throughout his career, Stephen has advised on tax with particular emphasis on employee share schemes and related remuneration issues, including share valuation. If you want to know how to create a share scheme that will have ongoing benefits for the development of your team, Stephen is your man.
14:15 Financing employee ownership
Garry Karch, managing partner, RM2 Partnership, @RM2partnership
What to listen out for: You might know what you want to do regarding your share scheme, but how do you finance it? Garry has extensive experience in structuring and financing employee ownership transactions, so he'll tell you what you need to know.
14:50 SME share scheme case studies
Colin Kendon, partner, Bird & Bird LLP, @twobirds
What to listen out for: If you're the owner of a small to medium business, listen up. Colin is head of the employee incentives and benefits team at Bird & Bird LLP. He's also co-authored Internet Business: Commerce and Tax which contains a substantial section on share plans and share based arrangements for employees and managers of private companies in technology and e-commerce sectors.
15:25 BREAK
15:45 Employee Ownership Trusts
Nigel Mason, managing partner, RM2 Partnership, @RM2partnership
What to listen out for: Nigel has been advising private companies on employee ownership as director of RM2. He was a member of the HMRC Advisory Group which designed the Share Incentive Plan and Enterprise Management Incentives, so he knows his stuff.
16:20 Advanced panel
Chair: Mahesh Varia
Panellists: Garry Karch and David Craddock
What to listen out for: Your brains are now fully warmed up so take advantage of this panel. It's your last chance to ask any remaining questions.
17:00 CONFERENCE CLOSE
You've got breakfast, coffee, lunch and a whole day of excellent speakers. All you need to make the most of it is a solid game plan and the confidence to network. To start you off, you can look out for these two friendly faces. We're always happy to chat about employee share schemes and shared ownership, just try and stop us.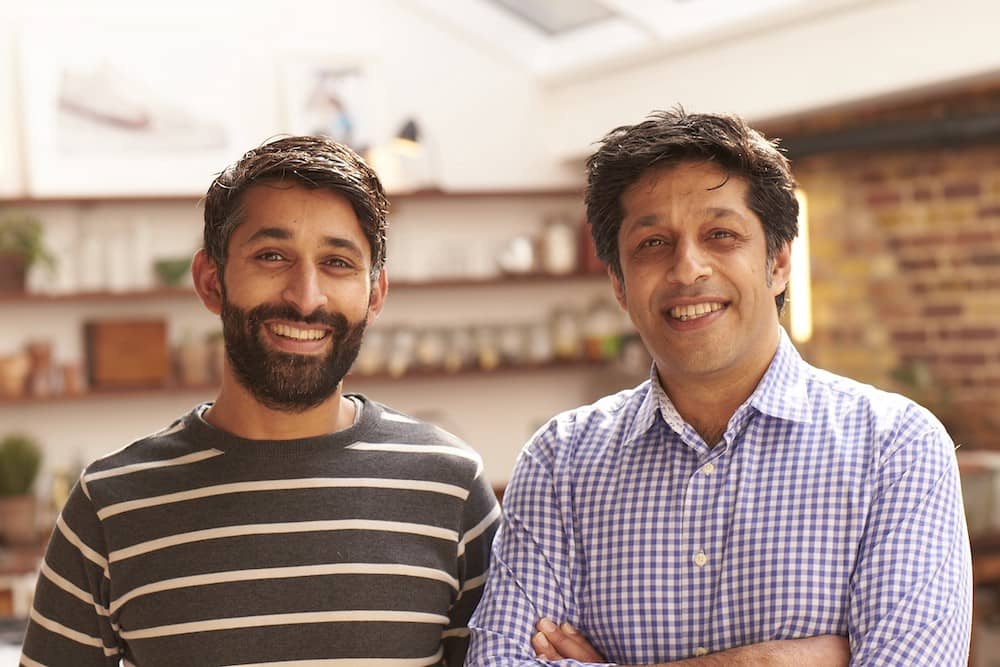 Vestd co-founders Naveed and Ifty
Thanks to the IoD and Employee Share Ownership Centre for putting on the conference, we're looking forward to it.