A desire to help others can inspire the most innovative start-ups. That was certainly the case for Rebecca Taylor, founder of Aquarate.
Aquarate's hero product is a clever cup designed to help carers and nurses monitor water intake in care homes and at home.
Hey Rebecca, tell us a bit about your company.
Aquarate exists to ensure that our most vulnerable within society are hydrated and healthy. We are a MedTech startup that began in 2017 to develop a solution to the age-old patient safety issue of monitoring hydration within care.
How did the idea for Aquarate come about?
As a design engineer, I want to develop products that I'm passionate about. Nothing resonated with me more than the idea of helping our ageing population with technology to enable longer healthier lives.
How would you best describe your business philosophy?
People matter. We care for people with honesty and integrity.
Love that. What motivates you?
When I feel I am making a difference with the work we are doing. For example, when I hear stories of how our solution would massively help someone care for their loved one or when a council tells me they have been looking for a solution to this problem for 8 years.
I hold on to their golden nugget on the days that are harder knowing all the hard work and late nights will be worth it if we just save one life through the work we are doing.
Great work. Hindsight is a wonderful thing. What would you say is the biggest mistake you've made as an entrepreneur?
Hindsight is a great thing! I think my biggest mistake is not getting the right people around me quick enough who had the experience in building a MedTech business.
It's hard to see at the time, but if you work with the wrong people you make silly mistakes and waste precious time.
How do you keep your team aligned?
Our team is small, there are currently two of us full time and then we have great partners externally whom we work closely with to support our development and manufacturing.
I like to ensure that our goals are set out for each upcoming quarter so that we know what we are aiming to achieve as a team, and also individually.
With a small start-up you work so closely together it's almost impossible not to be aligned. Good communication is key!
Can you share any practical tips or processes to help people work remotely?
Keep your morning catch-ups, whether you have something to report on or not. It can often feel disillusioning working remotely rather than face-to-face as we're such a creative company.
However, touching base at the same time every day provides that human connection and routine to each day.
Maintaining that human connection is crucial. Do you have a share or option scheme in place for your team? If so, what impact has it made?
We do not have one yet, but we are in the process of setting it up. I love our growing team and couldn't be happier to have the people I have on this journey with me.
I am keen for them to share in the success of the journey we are on together.
We couldn't agree more! Do you have any pets? Care to share a photograph?

I have a lovely tabby kitten named Olive, who is currently 8 months old. She was a rescue from a farm up in the lakes, and it certainly has been wonderful to have her during lockdown.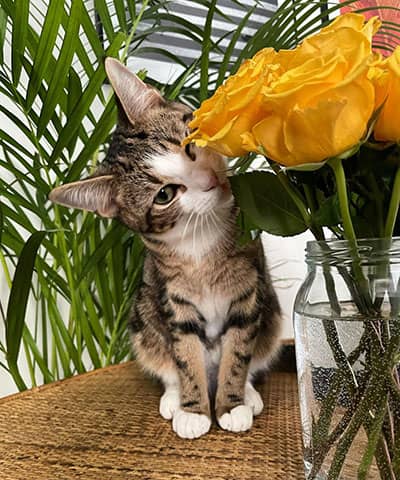 Adorable! Finally, Rebecca, what does a Friday night look like to you?
Pre-COVID, it was so easy to meet friends for drinks or food in town, however that can wait till Saturday. Fridays for me are to unwind and catch up on sleep from what is usually a busy working week.
So, I love nothing more on a Friday night than to have a glass of wine and a slow evening perhaps sat by the fire or in the bathtub!
Thanks so much for your time Rebecca. Keep doing what you're doing!