Incorporate your startup in the UK
The UK is one of the top regulatory environments in the world to launch a startup. With Vestd, you can incorporate in the UK, design future-proof equity agreements and migrate all that over to the US in due course.

Mike Moyer's Slicing Pie model, aka the "Grunt Fund", has demystified equity for thousands of founders worldwide and helped them turn equity into a tool for growth.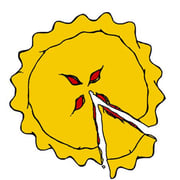 The Slicing Pie approach helps many thousands of co-founders to figure out fair equity splits, for themselves and early hires. People who contribute what they promised are rewarded with equity. Team members who don't deliver will not unlock their full allocation of shares.
From just $100 / month Vestd enables founders of US companies to set up a legal entity in the UK, with conditional equity agreements for key people. We call these 'Agile Partnerships' and they can be based on the Slicing Pie model.
Team members subsequently earn appropriate amounts of real equity (not promises or tokens!) and you can migrate your company back to the US.
There are a bunch of reasons why the UK is the best place to set up a private company:
Quick to set up
Flexible jurisdiction for shareholders
Low start up costs
Business-friendly regulations
Straightforward tax system
Limited liability protection
Financial support schemes for founders AND investors
Vestd is fully integrated with Companies House and has tools to help company secretaries tackle important (but tedious) admin.
Tempting right? Talk to one of our equity experts today.
Book a free consultation