UK workers are going to the office 1.5 days a week on average. Pre-pandemic, it was more like 4. That's according to the Office of National Statistics.
With that in mind, for a lot of businesses, having a physical office doesn't make financial sense. That's where co-working spaces, team retreats and offsites can help bridge the gap between remote and office working.
Sophie Bailey, the founder of offsite marketplace WorkTripp, tells us how WorkTripp began and why leaders need to let go of archaic attitudes to remote and hybrid working.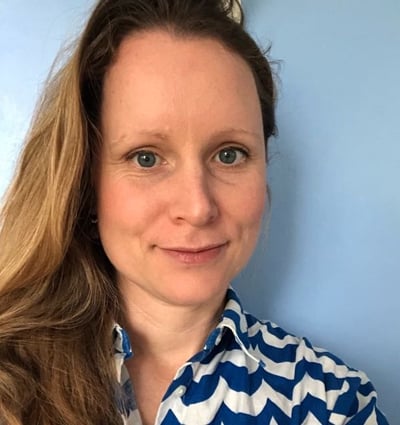 Hi Sophie! Tell us a bit about your company.
WorkTripp™ is a marketplace to help high-growth companies book team offsites.
Companies know they need to bring their teams together to improve employee wellbeing, business innovation and productivity, and talent retention and recruitment.
WorkTripp is about saving companies time and helping them to be intentional about why and how they bring their teams together.
Our marketplace suppliers are venues, experiences, but also coaches, facilitators, and speakers.
Companies have long booked team offsites, but the mainstream shift towards remote and hybrid work is demanding new approaches to working environments and exchanges.
This has been fuelled by the COVID pandemic, but also ongoing skills gap challenges driving talent sourcing through distributed teams.
In addition, leadership coaching is becoming more mainstream fuelled by the "great resignation", and hunger for self-development, especially across the GenZ workforce. We take all of this and make sense of it with our workflow that takes the guesswork out of team offsites.
We are early-stage, and currently testing the WorkTripp concept with customers. We are raising a SEIS round, onboarding suppliers, and working with venture capital firms to support their portfolio companies with team offsite.
SEIS stands for Seed Enterprise Investment Scheme. Learn more about the benefits of SEIS for early-stage businesses.
Fantastic. How did the idea for WorkTripp come about?
I wrote a blog post about this actually. Ultimately, I was looking at the trend towards remote work becoming mainstream and the reality of that two years in.
As someone who enjoyed remote working for 6 years prior to the pandemic, I also saw the rough edges to remote work: employee burnout and loneliness, difficulties in onboarding and conveying company culture, and poor employee experience, support and talent retention.
I thought about the opportunities of remote working for rural and coastal areas traditionally outside of the benefits of the knowledge economy and what team offsites might mean for sustained year-round employment for the hard-hit hospitality sector.
And I also thought about how team offsites in these inspiring – out of normal working environments – could help connect colleagues periodically, boost their employee experience and balance the back-at-desk aspects of remote working.
I could see the connection between learning and development, EdTech (my background) and the impact of events when done well (also my background). I started socialising the idea, and it grew quite rapidly.
The announcements of Airbnb and Salesforce and others advocating for a 'work from anywhere' policy, married with high-impact team offsites helped to validate our mission somewhat.
Our goal is to help all teams, from high-growth startups to well-established corporates, to get together, enjoy work and be productive.
This goes beyond the traditional senior leadership team offsites, and is enterprise-wide: in the context of remote working, you may need to get together in a facilitated capacity to crack that complex business problem.
You may need to get together to challenge your sales team or work with your Gen Zs or to offset female leadership being lost in a remote world.
You might want to bring in a coach to help a future leader with their in-person communications or imposter syndrome. There are so many applications. Why not do this in a setting which inspires your team, and reflects the value of them to the business appropriately?
Having worked in supply and demand community-curation businesses, including global events, commercial podcasts and now marketplaces, there are some interesting parallels to bring along with me on the journey.
I'm a great believer in connecting knowledge and opportunity across multiple domains – I love David Epstein's work on this with his book, Range: How Generalists Triumph in a Specialized World.
So many applications! Can you share any practical tips or processes to help people work remotely?
All the usual. Get a good chair, support your local coffee shop etc.!
But seriously, don't forget how many hours you have gained back by working remotely. Invest these wisely. Make sure you don't just pack these hours with B2B video conferencing.
Think constructively about how you want to use your time; invest in your personal health and wellbeing, or a particular business project.
Think about having a "head of remote" or "head of platform" in your business who is tasked with creating a sustainable culture around employee experience in a remote-first world.
Josh Bersin's work in this area is insightful, as is the always-excellent Eat Sleep Work Repeat podcast from Bruce Daisley. If you're working remotely, you need to think consciously about promotions and any blind spots and also any potential for colleagues who may be struggling.
Periodic team offsites can help offset some of the negatives of being fully remote. Gen Z has had a rough ride with working remotely, lacking guidance and mentorship, and missing out on the wonders of travel with work.
Purpose-led team offsites can really help to galvanise and attract them to your business, as well as all the other productivity perks of cross-team innovation.
WorkTripp is about companies setting their goals for their meetings, providing excellent suppliers to facilitate this, and then measuring and sharing the outcomes. Ultimately, we want to support a cycle of offsite and back-at-desk support.
I happily and fully reject the old-world panic about remote working. This smacks entirely of profits tied up in now under-utilised property, rather than any evidence that challenges productivity.
This is old-world, hierarchical thinking.
The opportunities of a remote-first world, supported by amazing team offsites which deeply connect colleagues is hugely exciting. I can't wait to see the innovation which results from this new way of working.
As a totally remote team, we couldn't agree more. How do you keep your team aligned?
It's very easy as there are very few of us! ;) At this stage, it's just me with some amazing advisors from across travel, EdTech, and marketplace businesses.
Ultimately, I'm already thinking of the future hire sheet and how at that stage our company culture will live and breathe what WorkTripp is all about.
So I can fully imagine us working remotely, and then meeting for team offsites. Someone has to check out all those amazing venues, right?!
Of course! Do you have a share or option scheme in place for your team?
I really believe in shared success. And I've allocated shares for early team members when they join.
Motivation is a fascinating subject and is driven by personal, macro, external and internal factors, but ultimately purpose-led business is the future.
Having equity options helps to create that sense of shared vision which has been shown to galvanise high-performing teams, alongside the purpose of the business in and of itself. It all adds up.
Many of the people lamenting the old world of working are still operating a more hierarchical/transactional idea of employment.
Ultimately, to attract top talent there has to be something "extra" – that can be self-development, travel, mentoring, and social impact. All things we hope to connect through WorkTripp.
What do you look for in a candidate when hiring new people?
Fire in the belly! Obviously, I'd love subject matter expertise, but a good cultural fit and a can-do attitude is essential. That means being flexible, and adapting to an agile environment, customer and company needs.
The breadth of experience and perspective I talked about earlier is essential. Someone who leads with initiative is well-connected and ambitious.
But across all of that, being collaborative and a force for good within the team is essential.
Someone who has interests outside of work, and is not consumed by work, but knows how to recharge and come back with fresh ideas. Someone who gets the values of WorkTripp.
Hit me up on LinkedIn if any of this is sounding appealing! The team is everything so taking time on recruitment is essential.
Who has had the most impact on your life, and the decisions you make in business?
Granny Clothier. She was from a large family from a mining community in Wales. She moved to Bath, worked in a hospital and had about 3 other jobs on the go. She was the original portfolio careerist.
She knew everyone and had an incredibly high work ethic and was the definition of frugality. When she passed away it turned up that she had made several very savvy investments and had saved up all this money.
She lived her life in a very low-impact, contained way, so you would never know this. She had her local community, family and rambling that she loved. So, she was hugely hard-working, entrepreneurial and diligent, but ultimately focused on what really mattered in life.
Granny Meow was the other influence; she enjoyed life, was gregarious and sociable and entrepreneurial also. Both are the product of wartime living. Both wonderful!
They sound wonderful!
Otherwise, I always think Thomas Cromwell was the ultimate 21st-century skills advocate - mercurial enough to find opportunity! Collaborative, creative, connected. Not a great end, but what a life!
What a life indeed. Final question, who's your favourite band or musician?
I recently saw Metronomy do their homecoming gig in Torquay. That was epic.
Thank you so much for your time Sophie, it's been a pleasure getting to know you and the business!