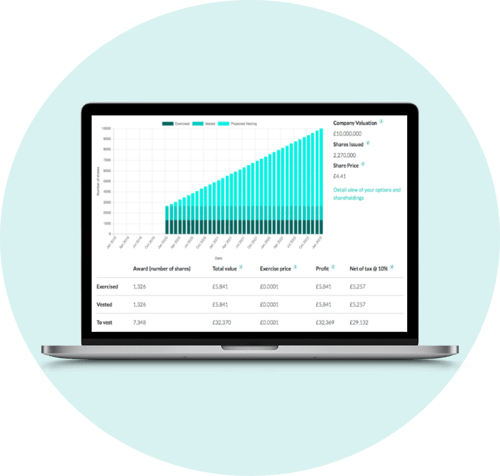 Ask us anything about shares
Schedule a free call with a share scheme specialist

On the call, we'll explore:


The best scheme types for your needs
How to launch your own share scheme
Setting key conditions and milestones
The costs and tax implications
How to issue shares and options instantly
Managing your share scheme with Vestd


It doesn't matter if you're a brand new startup or an established company, we'll also answer any questions you have about sharing ownership.
Choose from a range of share schemes
Don't know which share scheme is best for your business? That's where we come in, we'll help you find the right custom scheme that fits your needs, achieves your goals and helps you grow.
Launch a tax-efficient EMI scheme
More than 13,000 SMEs have launched an EMI options scheme. The benefits are fantastic, for you and your employees.
Set up an Agile Partnership™
Determine equity rewards based on agreed milestones and conditions. Perfect for early-stage startups and incentivising senior teams.
Conditional growth shares
Great for founders who are looking to bring people into the business after it has built up some initial value and conditions can be applied to protect the business.
Flexible unapproved options
Quick to set up and designed to be flexible to incentives a wider team including employees, advisors and consultants.
We make sharing ownership easy!
Let us take care of the hard work for you. Vestd saves you time, money and stress with a fully-guided service and easy-to-use platform that puts you in control.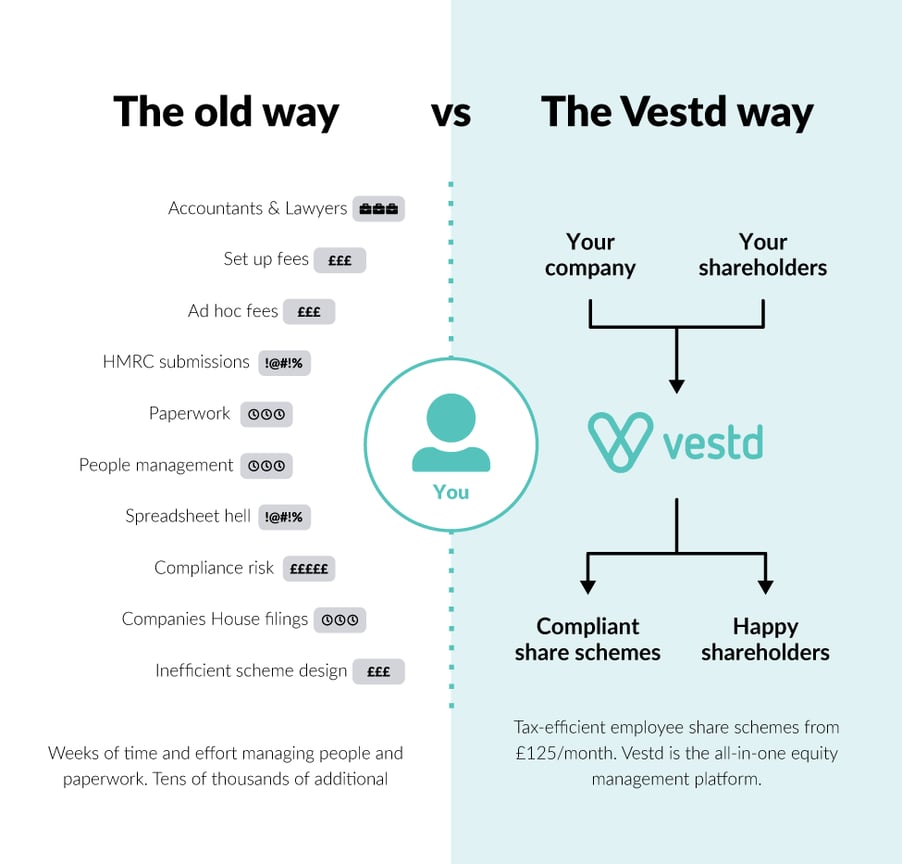 An unmatched equity management platform
Vestd offers everything you need to set up, manage and share ownership with key people, all in one place. We provide end-to-end expert support from setup through to exit.
The UK's share scheme specialists
We'll help you design a tax-efficient custom employee share scheme that fits your philosophy.
Lifetime scheme management
Setting things up is one small step, but we're also around to help to manage your scheme too.
Digitally manage everything
Exercise options digitally and we will automatically notify Companies House with two-way integration.
Defensible company valuations
Our share scheme experts will provide regular valuations for growing companies.
A platform built for UK businesses
Trusted by thousands of SMEs and startups (and their investors) to digitally manage equity.
Easily add and remove recipients
Changing and adding scheme members on Vestd easy to use platform is a piece of cake.
Vestd is FCA authorised
The only UK share scheme platform purpose-built for SMEs that is regulated by the FCA.
Ongoing expert support
We provide end-to-end support, from start to finish with no random fees.
Download the Complete Guide to Setting up a Company Share scheme.