- Case Study -
Propel Tech

Propel Tech is a 100% UK software development company with offices in Yorkshire and Hertfordshire, serving a wide range of industries and well-known corporations across the UK.
Director and co-owner David Ritchie explains why they chose Vestd and why share equity in the first place.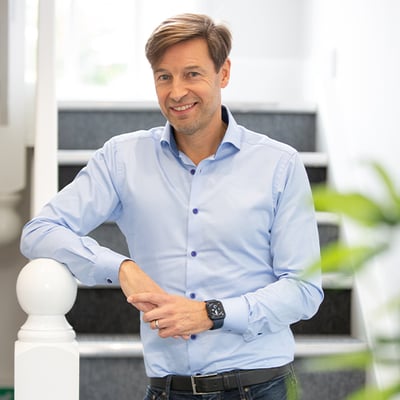 Tell us more about Propel Tech!
We offer our clients expert bespoke software application development, designing, testing and systems management.
Our drive is to create value from technology and systems. We focus on making tech change possible and in doing so we offer software support that improves business performance, enhances team engagement and delivers value.
Today, we are a growing team of software developers, testers, and creative technology problem solvers who harness the power of technology to help our customers thrive and grow by not just fixing their problems but finding better ways to work.
What made you want to launch a share scheme?
As we grow, we want to deliver our brand values internally and ensure our staff feel part of our success.
We work in the competitive software development and technology consulting market. One of the key motivations for setting up a scheme was to help Propel Tech deliver its new brand and stand out in the market to attract and retain skilled resources by demonstrating our inclusive culture.
Specifically, some of the areas we wanted the share scheme to have an impact on include:
Demonstrate our loyalty to our team
As a service business, our team are everything, we have a great team of expert technical individuals, and we wanted to ensure that they all feel part of any success they bring to Propel Tech and that our team know that their efforts do not go unseen or unrewarded.
Our team know that their efforts do not go unseen or unrewarded.
Increase positivity and motivation
In turn, by offering employees a share in Propel Tech's success, we felt that they would more likely feel invested in the company's success and be motivated by their inclusion in any success they bring.
Improve staff retention
Of course, we want to retain our best talent and one possible benefit of the share scheme was that if employees had a financial stake in Propel Tech they could be more likely to stay with the company for the long term.
Deliver our values (CARE)
Having undergone a total rebrand in 2021 we had a number of values to deliver to our team. Post-covid we wanted to really engage all our team with our values.
Our team are remote first, and we wanted to bring them together in a mutual sense of ownership and responsibility, we hoped this would help team engagement and fuel our values: Collaboration, Aspiration, Resolve and Enhance.
Improve company culture
A big part of our rebrand focused on culture and an employee share scheme was one tool we have put in place to help create a more collaborative, team-oriented culture within a company, as employees are more likely to feel like they are all working towards a common goal.
Overall, we felt the employee share scheme would be a powerful tool for demonstrating our values, our belief in our people and a way to attract and retain talented employees, while also providing a number of benefits for the company as a whole.
How did you discover Vestd?
Once we knew we wanted to deliver a share scheme to develop inclusion across our business we started looking at different providers across the market, looked at reviews and did our own research. We created a shortlist of criteria from product deliverables to the type of business we wanted to partner with.
LinkedIn was a great tool that helped us find your business and understand how other businesses were putting share schemes in place. We then looked at reputation and feedback to help us make a shortlist.
Was it your first time launching a share scheme?
Yes, it was, and this came with a real drive to find the right partner and ensure that we were able to offer our employees and the business a scheme of value and one that was well respected, finding a partner that had the same forward-looking vision and problem-solving outlook was important, and one that could support us in a personal level as we grow and answer any question the team might have.
Did you have any reservations about setting one up?
We knew that while employee share schemes can have many benefits, there are also some potential reservations or challenges that we may face.
We were especially mindful that employee share schemes can be complex and costly to set up and manage, and we wanted to ensure the scheme did not become overly complex, expensive to administer or time-consuming.
We also wanted to ensure that the right balance of employee shares was issued and that it was attractive to all employees while ensuring ownership did not become fragmented.
How did we help?
The Vestd team helped to provide knowledgeable consulting as we looked at the various options open to us and as we started to develop the framework. They supported with compliance, costs and legal understanding.
Vestd helped us to consider the potential reservations and weigh them against the potential benefits of starting an employee share scheme before we decided to proceed.
They supported with expert support that directed our processes across legal, finance, and HR as we navigated the complexities of setting up our employee share scheme.
How long did it take to get set up?
It took about six months from start to finish.
What do you like the most about the platform?
It is simple to use and flexible, it offers an accessible, compliant and transparent option that feels right for our business and our employees.
What has the impact been on your team so far? Has it brought people together?
The scheme has been well received across the business, we have seen a good level of interest and feedback suggests that the scheme works to help employees feel value for the work they do, part of something bigger than their day-to-day role and invested in the future of Propel Tech.
Final thoughts
We are still at the early stages of our share scheme but working with Vestd has been informative, supportive and stress-free and it has allowed us to offer more to our employees at a critical time in the world of business and in a way that really supports our brand values and services focus.
Vestd has been informative, supportive and stress-free and it has allowed us to offer more to our employees at a critical time in the world of business.
We look forward to seeing how the scheme supports our business ambition and how the platform develops and grows.
Schedule a free, no-obligation equity consultation
Get on the fast track via a call with one of our experts...
Talk to an expert