What do competitors say about Vestd?
Competition is great. It validates the marketplace and helps to keep us on our toes. However, competitors like Seedlegals and Capdesk occasionally overstep the mark, by saying things about Vestd that are downright untrue. So we'd like to debunk a few myths propagated by our friendly foes.
Here are a few of our favourites, which we have heard from our customers and prospects...

This line of attack is a recurring theme. It is also 100% nonsense.

Let's be quite clear about this: if you stop using Vestd you are able to download all of your data, in order to manage your scheme some other way.
As a matter of fact we'll help you to do this. Your share schemes will not vanish, and we will wish you well.
You'll need to stay compliant, of course, and we won't be able to help you with that if you choose to move on. But the scheme itself will remain intact and in good shape at the point of departure.

We love you guys too, but this is a bit of a stretch, to put it mildly. We have of course met the founders of our competitors, but that's the long and short of it.

Also completely untrue.
We have no commercial or other relationship with any other platform in our space, though we happily point prospects at other providers if Vestd isn't a good fit for their needs.

This one is a peach. A bona fide lie, particularly given how well they claim to know us.
The fact is that Vestd was the first share scheme platform to launch in the UK.We built it specifically for SMEs so that they can set up and manage share schemes. It is the core of why we exist.
The other platforms have followed our lead, and fair play to them. But why they resort to these low-rent porky pies is beyond us.
The word 'manage' appears more than 100 times on our website. We mention digital equity management twice on the top of our homepage. It is right there, in plain sight.
It is worth mentioning that Vestd is by far the easiest platform for equity management as it is the only one fully integrated with Companies House. That means you can issue shares directly from the platform, while updating Companies House in real time. No need for forms or paperwork.
Unlike the competition.

Technically this could be true, but we lose very few customers, and hardly any have switched to a competitor after they have started out on Vestd.
When customers do leave, it is typically because they have been acquired (and the Vestd platform manages this process beautifully). A happy event for all concerned.
In any case, we certainly aren't in the business of setting up schemes only to pass them over to a competitor. We help companies run their share and option schemes from startup to sale.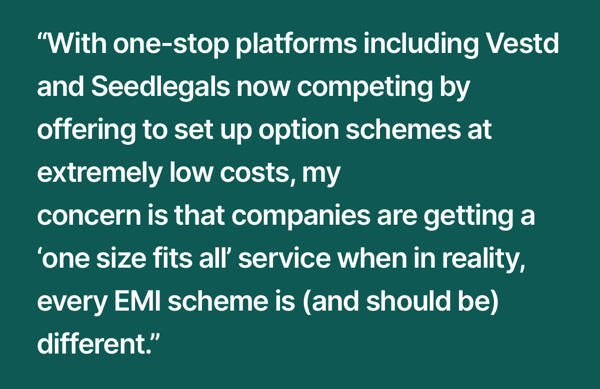 We fully agree with this statement from Jerry Davison at Mill Consultancy, however the implication is clear: Vestd only offers a one-size fits all service.
Actually, the opposite is true: Vestd provides a bespoke service for each and every customer. The platform allows you to design a share scheme that is perfectly in sync with your business needs.
You can create custom equity agreements for each recipient, if that's the way you want to do it. You can create exit-only or exercisable option schemes.
We're also very big on conditional equity. There are 26 types of conditions that you can set, which will govern the release of equity when certain milestones have been reached.
We provide insight during the free equity consultation about how other companies set up their schemes, to give you some inspiration. And during the onboarding process we'll help you to get everything in good shape.
It makes sense to shop around but when competitors talk about Vestd please take their claims with a wheelbarrow full of salt... and then double check with us.