The final step to setting up an EMI, unapproved or CSOP option scheme.
As this is the final step, we're assuming you already have authorised an option pool, created an option scheme and have an HMRC-approved valuation (in the case of EMI and CSOP).
While unapproved options don't require HMRC-approved valuations, we will ask you to carry out an unofficial valuation to make your life easier when submitting your HMRC annual notification, and when employees are filing their taxes.
To start issuing options, log in to Vestd and go to Share schemes > All option agreements via the homepage or side navigation bar, then click View your schemes and issue options.

Here you'll see a list of your option schemes with a brief description of each. Select the scheme you want to issue the options from.

If you'd like to use an existing scheme but need to change the exercise price or grant date, click Duplicate on the chosen scheme. This will copy over the scheme's rules so you don't have to create a new one, and gives you the option to edit exercise prices and grant dates (grant dates are only inputted in scheme designs for EMI).

Now it's time to add recipients.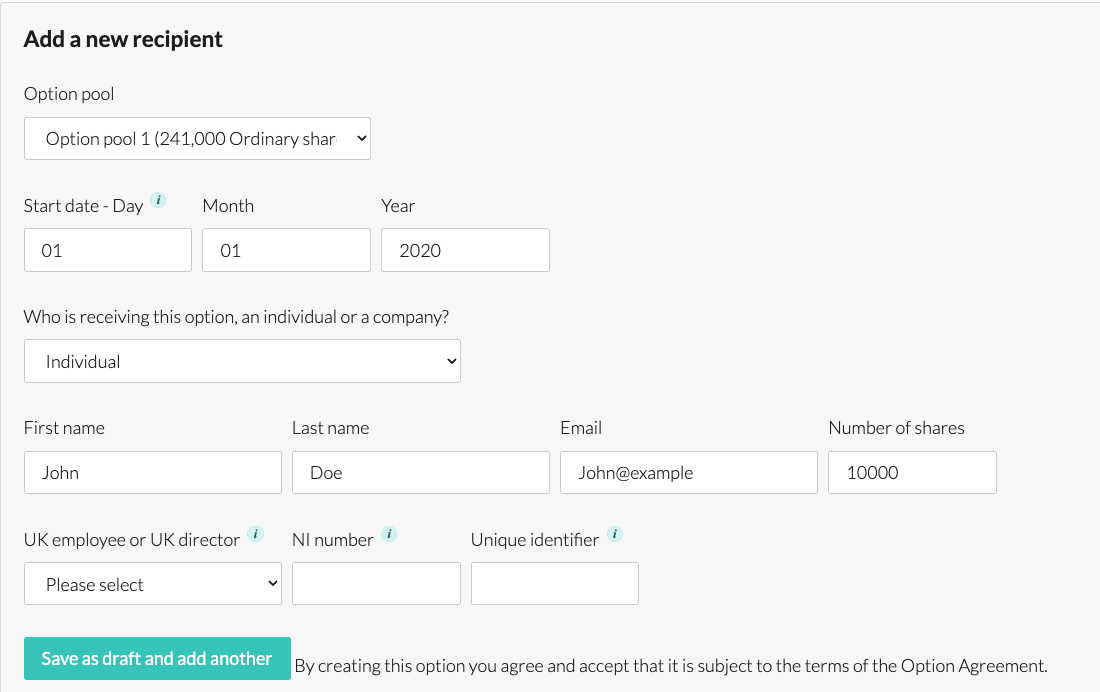 You will need to enter the following:
The option pool you're issuing from.
The start date of the recipient's vesting schedule (this can be backdated, for example when they started employment).
If you're issuing EMI or unapproved options to a UK employee, the recipient's name, email address, and National Insurance number.

If you're issuing unapproved options to a non-UK resident, you don't need to enter a National Insurance number.

If you're issuing unapproved options to a company, the company name and email address.
The number of options you want to issue them.
Once this is done, check the details are correct and click Save as draft and add another. Don't worry, nothing gets sent out just yet. If you need to make a change to a recipient's option agreement, scroll down to the following distribution table and click Edit.

Clicking the recipient's name will take you to their option agreement summary, where you can view and edit their vesting schedule.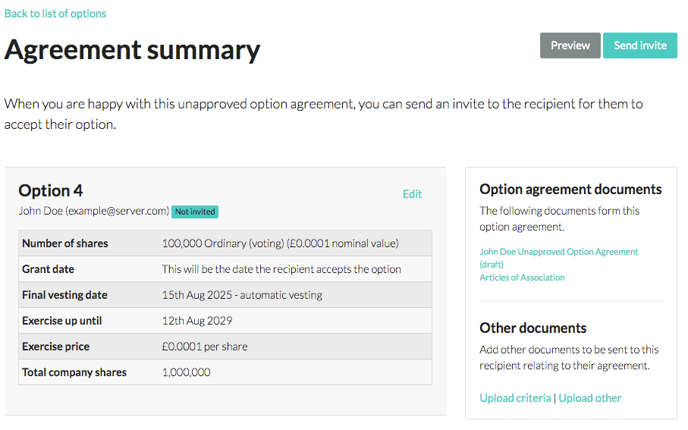 Once you've finished adding recipients (you can always add more later), click Send invite and we'll email each recipient to accept their options.
It's worth noting that you can continue editing the scheme design and individual option agreements until the first invite is sent, so make sure everything is correct before sending out invites.
Congratulations! You've issued options through Vestd.
Our team, content and app can help you make informed decisions. However, any guidance and support should not be considered as 'legal, tax or financial advice.'