The first step to setting up an option scheme.
An option pool is simply a pool of shares that's reserved for those who have been or will be awarded options.
Once an option pool has been created (usually authorised by a directors' and shareholders' resolution), the options can be used for any type of scheme (unapproved, EMI and CSOP).
Watch our video tutorial or keep reading for step-by-step instructions.
To create your option pool, via your side navigation, go to Share schemes > Share pools > Create new option pool.

You may be asked to update and confirm your governance settings for option pool authorisations. Just double-check that the settings saved on Vestd reflect your company's articles of association and click Accept default settings and save or make the necessary edits.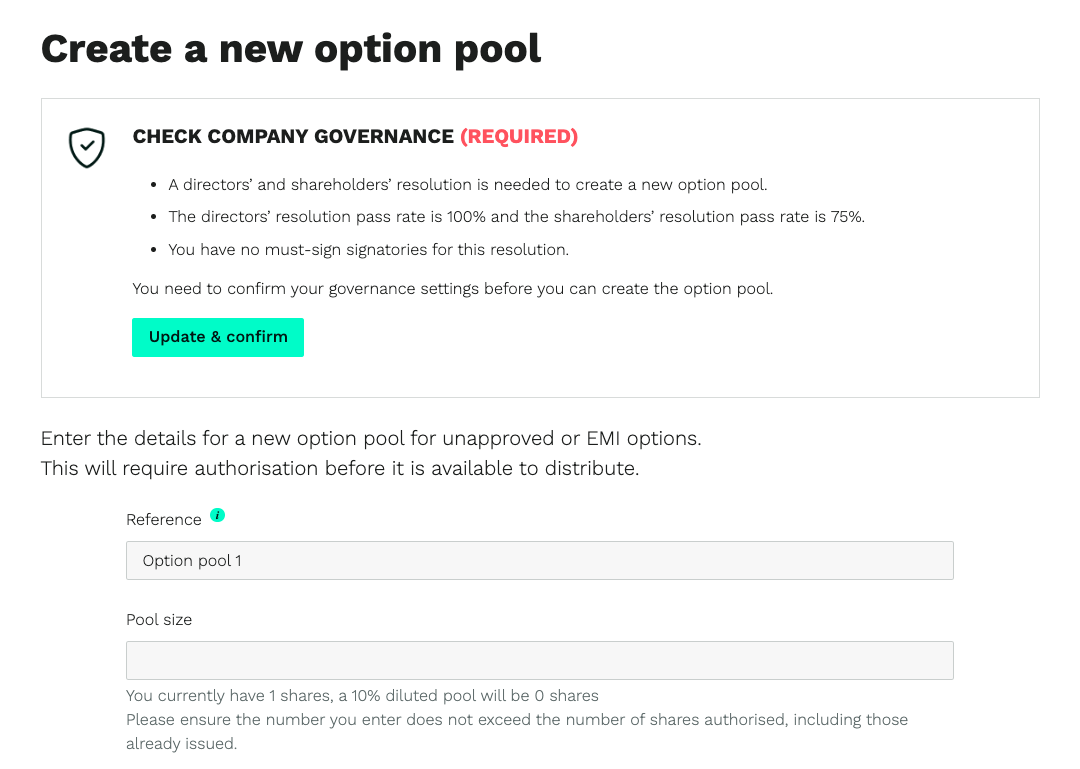 Once confirmed and saved, you'll be taken back to the option pool page to create the pool:
Reference: Give the option pool a name, such as '2023 option pool' to help you identify each pool as more are created.
Pool size: How many shares need to be created for the option scheme?

If you need to add more shares later, you can top up an option pool rather than create a new one (go to your Share pools page to learn more).

Share class: Select the share class the options will be in.
Resolutions: You will have selected whether resolutions are needed when confirming your governance settings. You can generate new resolutions to send for signing, upload signed resolutions, or select the signed resolutions that have already been uploaded.

If you're using your own resolutions, they must state the size of the option pool and the share class they are being authorised from.
Once the details are correct, click Next for one last check of everything, then click Confirm to send out the resolutions (if required).
If you have already uploaded signed resolutions, clicking Confirm will authorise the option pool.
The relevant directors and shareholders will be emailed to digitally sign the resolution, and once passed you'll receive a confirmation email. You can view the status of the resolutions by going to your Documents page.
While you wait, you can always begin designing your option scheme template by returning to your unapproved option homepage and clicking Create new template.
Our team, content and app can help you make informed decisions. However, any guidance and support should not be considered as 'legal, tax or financial advice.'