A step by step guide to create your own option agreements on Vestd
Once you have your EMI Valuation, have authorised an Option Pool, and designed your Option Scheme , you are ready to send out EMI option agreements. You can create an Option Agreement without setting up a scheme first, but setting the scheme up first will make that process much faster if you are creating multiple agreements.
First, log onto our platform, and navigate to 'Share schemes' > 'EMI'
From here, on the top right of the screen, click new and select Create an EMI option:


If you have already designed a scheme template, you will see the link to it above the Reference box towards the top of the page, in the example below it is called June 2021 Option Scheme:

Click that link to get to this page: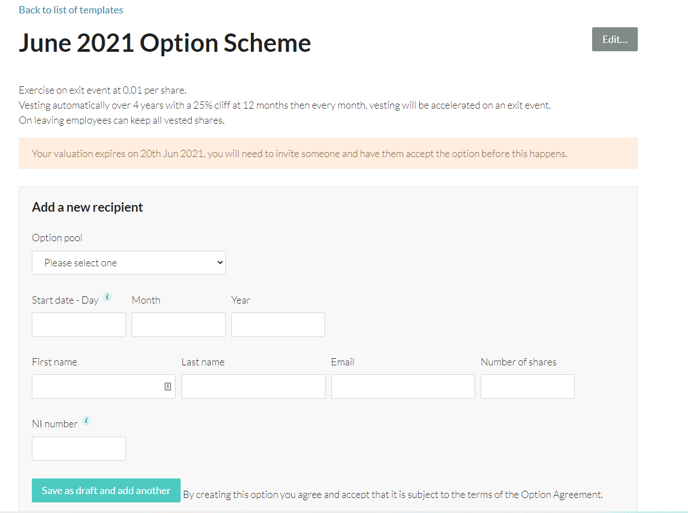 That's it! Now just select the Option Pool you want these shares to come out of, enter the start date for the agreement (e.g. date of employment), Recipient Details, and the number of shares you want to give them.
Once this is filled in, click Save and add another.
This will add the recipient to the bottom of the page.

Repeat this for all of the recipients.
Once that is done, click Send Invites at the top right of the page.

That will take you to the preview of the agreement: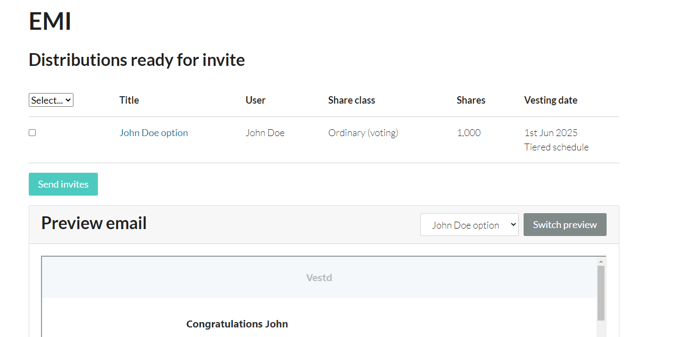 Once you're happy with it, just click Send Invites!
The recipients will receive an email with the agreement, and a link to the platform to accept their Options.
Our team, content and app can help you make informed decisions. However, any guidance and support should not be considered as 'legal or financial advice.'