A step by step guide to help you set up your option pool
Apart from getting your valuation agreed with HMRC, the first step in setting up your EMI option scheme is to formally authorise it on the platform and with your shareholders and Board.
Go to the EMI page for your company and click on 2, Option Pools, halfway down the page.
Then, choose " Create a new option pool"

Once in the authorisation page, choose a name for the authorisation that makes sense to you, state over how many shares you would like the options to be authorised and then choose the relevant share class.
If that share class has any specific restrictions specified in your articles (for example that they can be bought back by the company if the employee leaves) then they should also be added.
Finally click next to move onto the next page.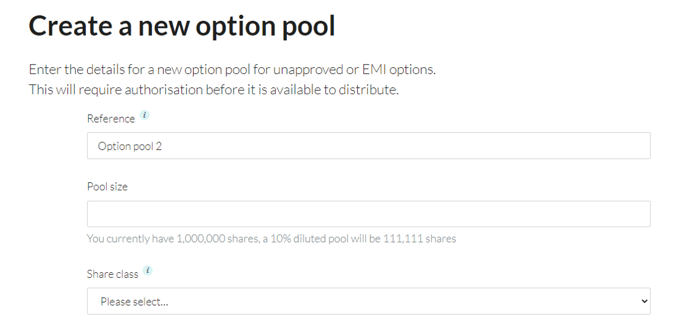 That will take you here:

This is where you get to upload Shareholder and Director resolutions if you already have them.
Just click the relevant link: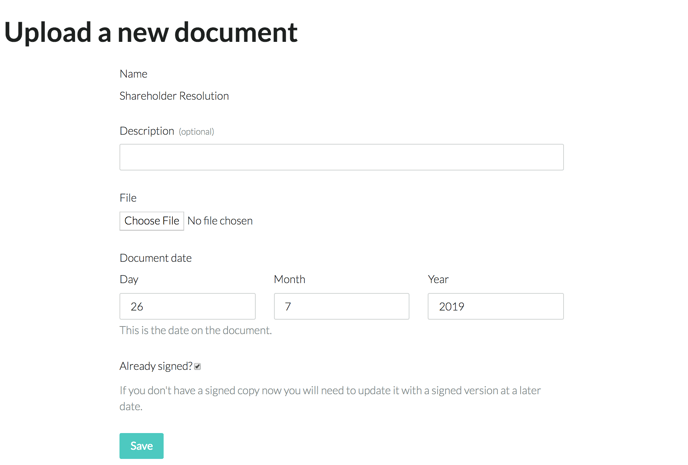 Upload the file, enter the Date, and make sure the relevant box is ticked if the resolutions are already signed. Clicking Save will take you to the previous page.
Once you're done, or if you don't already have the resolutions, click Continue at the bottom of the page.
That will take you here: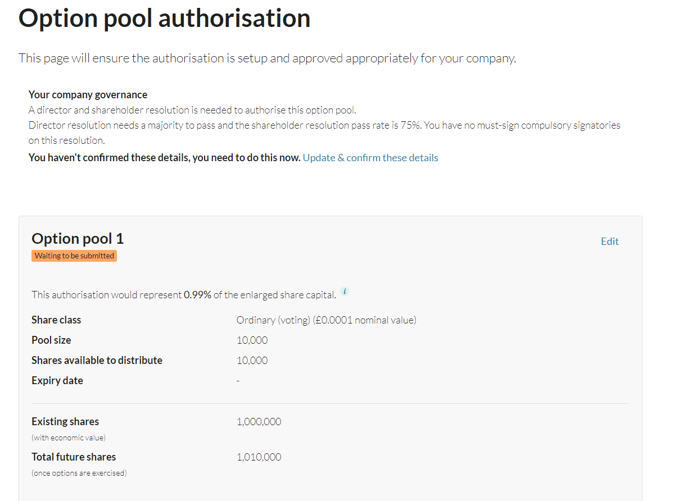 This page allows you to check that you have made no errors and ensure that the authorisation resolutions are only passed according to the rules of your company.
First, check that the details of the option pool are correct (number of shares, share class). If you have made an error, click the button in the top right hand corner to edit the details.
If all is ok, check the corporate governance settings. The platform defaults to needing a Shareholder Special Written Resolution passed at 75%, plus a Board Resolution to authorise the option pool. If your company has anything different (for example "must sign" shareholders as part of an earlier investment agreement) then click on the "Update these details" button to adjust them.
If all is ok, then you can review both the Resolutions and the scheme rules by clicking on and downloading the documents to the right of the screen.
Clicking Submit will send out the necessary resolutions for signing.
Once the Resolutions have passed, the platform will contact you to let you know so that you can continue with scheme set up. In the meantime you can always check in your Documents folder to see the status of any resolutions that are in the process of being signed.
Our team, content and app can help you make informed decisions. However, any guidance and support should not be considered as 'legal or financial advice.'